Forecast on the territory of Kazakhstan of July 2020
In July, on the territory of the Republic the air temperature is forecasted to be within the climatic norm.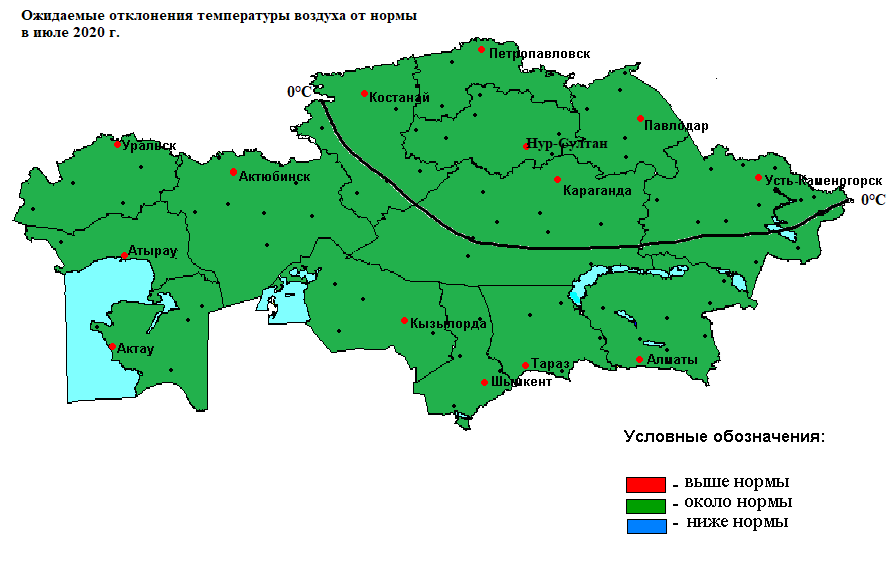 rainfall in most parts of Kazakhstan is expected about norm. Less than the mean annual values of the rainfall will be only in the South-Western half (Mangystau, Kyzylorda, Turkestan region, South of Aktobe region), in Central (the Karaganda region and Balkhash O.) and in the Northern half of Almaty and Zhambyl regions.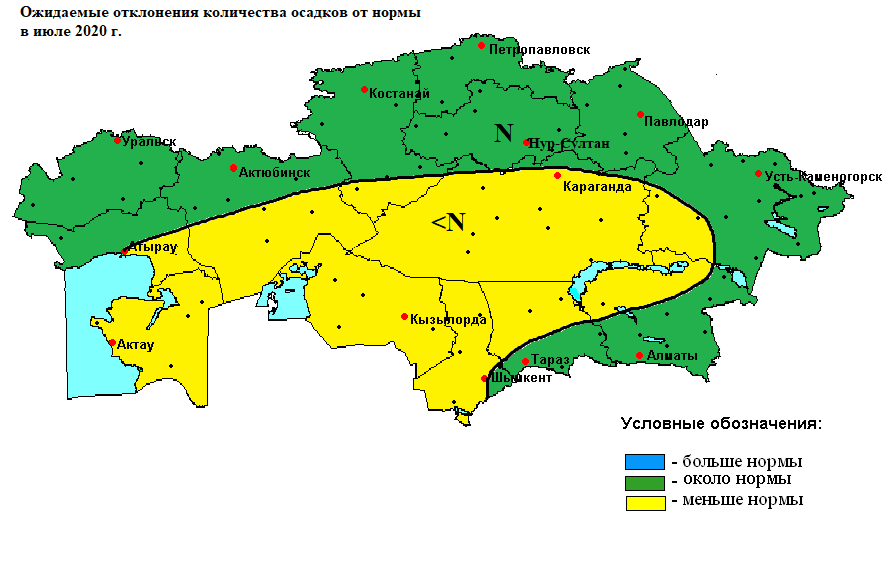 In the first half of the first decade of the invasion of cold and humid air masses from the Atlantic, Scandinavia and the Kara sea is projected a gradual decrease in air temperature and rainfall with thunderstorms. In the Northern half of Kazakhstan the temperature will fall at night to +5+15°C to +15+25°C, in the southern half of the Republic at night will drop to +13+23°C to +23+33°C, in the mountainous areas of Almaty region at night is expected to +9°C to +20°S. In the second half of the decade, with the outflow of warm air masses from areas of Iran with an expected gradual increase in air temperature, and with the establishment of the anticyclone, the cessation of precipitation. Therefore, the peak heat is at the end of the decade. In the Northern half of the Republic, the air warms up to +28+38°C, in the southern half to +33+43°C.
In the second and third decades in most parts of Kazakhstan are forecasted rains, gusty winds. The invasion of cold air masses will lead to lowering of the air temperature: in the Northern half at night to +7+12°C to +17+23; in the southern half at night to +13+18°C to +25+30°C.
the background air temperature in July in the Northern regions of Kazakhstan will be +25+33, and in the South +30+35. But on some days, due to the removal of hot air from tropical areas of Iran and Central Asia, the expected significant increase of air temperature in the southern half to +35+45, and in the Northern half of the thermometer will rise to a mark +30+38.